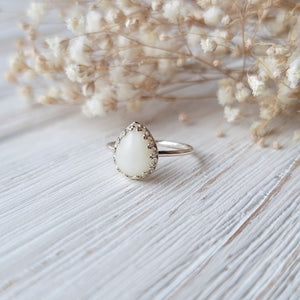 This Milky Fern Elegance Drop Ring makes for a timeless and beautiful keepsake with a 10×8mm teardrop breast milk stone set in intricately detailed 925 sterling silver. Pair it with any of the pieces from our Elegance Collection.
PLEASE NOTE:
Excess breast milk will not be returned, and instead will be stored by Milky Fern for one year in case it is needed at a later date.
Please DO NOT send your entire breast milk stash. Accidents happen, such as lost or damaged mail, and we would be heartbroken for you if you were to lose the last of your stash. We require only 2 tablespoons to create your breast milk jewelry!
Everyone's breast milk is unique! Because of this uniqueness, your stone may appear different from the one pictured. Dots, swirls, colour, transparency and other variations are all natural and normal to find in the finished product. No two breast milk stones are the same, making your piece truly one-of-a-kind!
Have questions? Check out our FAQ or get in touch!